Escalation of Competition in Malaysia's E-Tail Market
Increasing competition is the greatest risk for Malaysia's e-tail development, as global players begin to dominate the region. Malaysia's companies and policymakers will have to be aware of the tendency of the e-tail market to form natural semi-monopolies through massive scales.
Some of the most visited global e-commerce in Malaysia and Southeast Asia, such as Lazada, Zalora, Shopee, and eBay, continue to expand and dominate the growth of Malaysia's e-commerce retail (e-tail) market. Solidiance's white paper, "Malaysia's E-Tail Market: the Nurturing Nest for Regional Growth Stories", recorded the global e-commerce players covered 44% market shares in 2016. Although the market is heavily impacted by global players, more than half of the market in hands of regional, local, and other firms.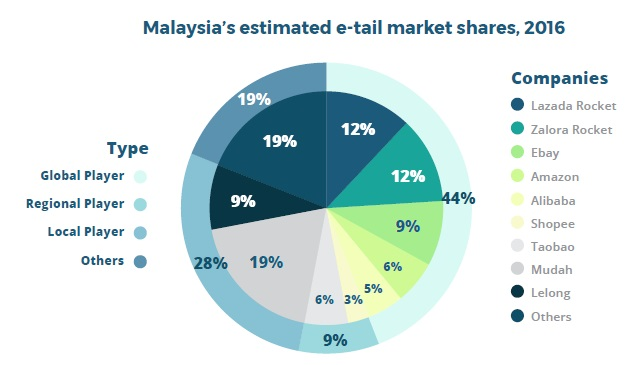 There are also some other players that stand out in Malaysia as early enablers and drivers of regional e-tail expansion. The report shows the case study of ipay88, launched in 2005, acting as a critical enabler for the growth of integrated payment solutions for online transactions. It first operated by the mobile and fintech company mobile88, who set up their business in Malaysia and have now expanded to several ASEAN markets. The other case was HappyFresh, launched in 2014, as the first independent, integrated grocery shopping platform in Malaysia. The company is now active in Malaysia, Indonesia, Thailand, and continues to expand.
The growth of Malaysia's e-tail market
According to Minister of International Trade and Industry, Darrell Leiking, e-commerce value added and contribution to the gross domestic product in Malaysia continuously improved over a period of seven years to RM 85.8 billion in 2017 from RM 37.7 billion in 2010, with an average annual growth rate of 12.5 percent.
Malaysia's e-tail market is estimated to grow from USD 895 million in 2016 to USD 2,590 million in 2021, stated in Solidiance's white paper. Compared to other Southeast Asian markets, size of e-commerce retail (e-tail) market in Malaysia is in the bottom range, yet it is expected to outpace other e-commerce countries in growth. Through the penetration of local, regional, and global players, e-tail market Malaysia has gradually expanded as companies and institutions began to start operation in the country since the early 2000s.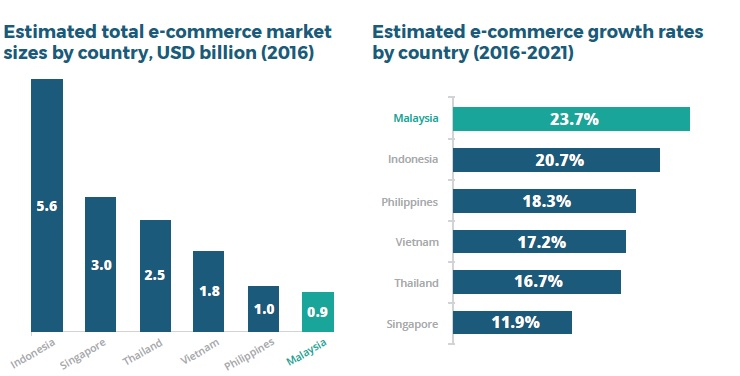 However, Malaysia has a very unique position, which explains the interest of regional and global e-commerce players. As a destination for e-tail investments, the report stated that Malaysia is in a very-well balanced position with balanced cost position, good infrastructure, and diversity. This condition makes Malaysia a great platform to test and nourish strategies for e-commerce business.
To sustain growth in Malaysia's digital economy, the government and Alibaba group also launched digital free trade zone (DFTZ). It is an initiative to capitalize on the confluence and exponential growth of the internet economy and cross-border e-commerce activities. The three components, including e-Fulfilment Hub, e-Services Hub, and KL Internet city (located in Bandar), are setup to facilitate cross-border trade and enable local business to export their goods with a priority for e-commerce.activities.
Challenges for Malaysian e-commerce
For Malaysia to fully benefit from its potential key role in Southeast Asia's landscape, several key success factors must be observed, notably by the local players. A well developed digital and urban infrastructure, well-functioning specialized intermediaries, increasing acceptance of e-tail common goods, and cultural and ethnic diversity are among key enablers for Malaysian e-commerce. While there are also several key challenges, including dominance of global players, talent scarcity, and fraud prevention and IP safety. Local e-commerce should also look out for possible future trends, such as development of 24/7 services for online shopping, offline to online conversion of conventional business, and potentially new e-tail segment
Read more about Malaysia's e-tail market in white paper Malaysia's E-Tail Market: the Nurturing Nest for Regional Growth Stories